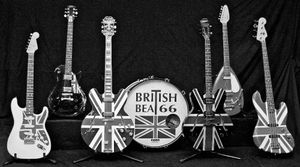 Meet the Band
Johnny Bo is our main vocalist plus he adds some cool percussion. When Johnny Bo visits Liverpool he and his mates like to frequent the Casbah Coffee Club. When Johnny Bo gets hungry he likes to eat a Lancashire Hotpot. 
Sir Michael is our main guitar man plus he adds keyboards & vocals. When Michael is not rockin he supports the Hereford United Football Club. When Michael visits Primrose Hill he likes to have afternoon tea at The Manna Restaurant. 
Ricky Domino adds some cool vocals & great guitar, Ricky once had a date with fashion model Twiggy where they strolled up & down Carnaby street like they were royalty. They went for a stroll when Ricky's Morris Minor wouldn't start.  
Brian Bee is our drummer and adds vocals, Brian loves wearing bell bottoms and he never misses an episode of his favorite TV show The Man from U.N.C.L.E. Brian likes to wear his new Bowler hat when taking his evening constitutional. 
Larry C plays bass guitar and adds vocals, his pad comes complete with beaded curtains & a lava lamp. Larry can go days eating nothing but Bangers & Mash. Larry likes to visit Weatherfield and hang out at The Rovers Return.
The best part about watching these guys is that it's real! Bass man spot on, also lead man with vocal effects from the old school catalog sounding righteous, to the proper keyboard sound, great separate and unique guitars, and all the strings in between all riding through an era of music that we all know and love. Add Brian's flare and we have an exceptional combo. Well done Lads!         Rob B 519 Band
Fun times with British Beat 66
"

"Good music comes out of people playing together, knowing what they want to do and going for it." " - Keith Richards - The Rolling Stones
More fun facts
Ricky admits joining the ABBA fan club in the early 80's.  When asked to comment Ricky was quoted as saying " I'm sure I wasn't the only one who's ever danced around his living room in his underwear while singing "Dancing Queen". 
Michael confirmed Ricky's statement and admitted he also danced around the living room in his underwear; however, he has no idea why it has anything to do with ABBA. "It was simply fun" said Michael. 
Johnny Bo is writing a book called "Elvis The bowling Years". A fictional account of an Elvis who loves bowling, corn dogs and the concept of time travel. In chapter three Elvis visits Belle River in the year 2040 and battles government forces that are attempting to outlaw corn dogs. 
Brian Bee is asking Fan Club members to join him in his petition to make "Mall Walking" an Olympic Sport. I love it and I'm not even retired says Brian. I call it good old fashioned family fun plus I usually win. 
Larry C has developed a toy similar to Mr. Potato Head only his toy will be called "Mr. Banana Head" and you use an orange!  
Special Mention
Our man behind the scene "Sir Andrew of Jifjaf" master of sound & lighting.  
Bob & Sadie at "Shot in the Dark" photography.  Ron Harway at "Ron Harway Photography"
British Beat 66 appreciates all the photographers whose creative input have greatly enhanced our Web-sites & face book page. Thank you J.K. Frederick, Pete Winagar, Charlie O'Brien, Gene Schilling, Robert Tuomi (Eye on Windsor), Dan Boshart and countless friends & fans who snapped a photo/video of British Beat 66 that we had the pleasure to post. A heartfelt thank you from British Beat 66.