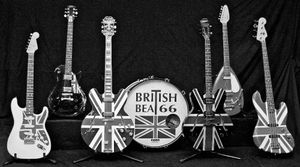 British Beat 66 Ready to Rock
If you love The Beatles, The Rolling Stones, Dave Clark Five, Herman's Hermits, The Kinks, The Moody Blues, Rod Stewart, Yardbirds, Hollies, Searchers, Eric Burdon & The Animals, The Zombies, Tom Jones, The Who and many other great British Bands then you'll love British Beat 66!   
Complete with a sixties look, musical equipment and especially all those great songs. Sir Michael, Johnny Bo, Larry C, Brian Bee & Ricky Domino are a musical tribute of the British Invasion Music of the Sixties. British Beat 66 does not emulate any particular artist opting to add our own unique twist to this Great Music.  
The Searchers  
To everyone in or to do with British Beat `66 I want to thank you all for keeping the music and the spirit alive. As pioneers of the British Invasion back in the Sixties we (The Searchers that is) have such great memories of our tours in the U.S and Canada and the amazing support and welcome from our audiences. It was a great time to be young. Keep the flag flying. Good wishes and success for the future. Frank Allen, bass player and front man with The Searchers.
Robert Tuomi/Eyes On Windsor  
Michael and his band-mates vocalist Johnny Bo, guitarist Ricky Domino, drummer Matthew D and and bassist had a plan. They would offer something a little different, which in BB66's case was rock and roll from the 60s. It was actually not out of place, considering most of the music played in the 60s can trace its roots to blues and in particular the work of the Rolling Stones, Animals and the Yardbirds to name a few of the bands covered during the BB66 set which had the audience dancing or simply tapping their feet to the beat.  
Fun Times  
Michael has performed shows with Herman's Hermits, Rare Earth, Mamas & the Papas, Scott Mackenzie and many other great acts from the Sixties, British Beat 66 performed with The Cast of Beatlemania  & Rock & Roll Hall of Famer Jim McCarty of the Yardbirds.                  
Hi Guys- great to jam with you at Windsor Rocks in July, Cheers Jim McCarty -Yardbirds                          
Fun times with British Beat 66
Some Fan Feedback

            
It was so sweet to see the kids dancing! Especially when a Dad got up with his daughter n they danced together so nice! Precious moments! British Beat 66 has very special guys! Enjoyed the night just observing the entertainment food people. A fine crowd! ~ Sharon O
Judging from the last time I saw you guys, it was upbeat good time music. I can't imagine not dancing and enjoying BB66. You guys bring back so many great memories from the English invasion time period with your music. It's a joy and a treat to hear you guys play that great music we all loved so much. Keep rocking guys, you have all our support. ~Arthur PW
British Beat 66 rocked the planet last night ..what an awesome fun night. There was such a turn out biggest crowd I every saw at the park this year. Danced the night away hugs. ~ P.O.
I just wanted to Thank you for a wonderful evening of music, you really made my day something very special, everyone really enjoyed your music. I will recommend you to everyone I know. ~ HM 
Was at the party last night and had a great time. You guys sounded good! First time I've seen the British Beat 66.  Jammin' it up and slappin' it down, was impressed!! Sounds like you guys are very busy with many gigs coming up. It's fantastic to see live music. Keep up the good work. ~ BB.
You guys played great last night! Every note, every tune, was dead on. I still think you should be touring North America. Your show was full of energy and variety. Keep up the good work. Let me know if you are in the area again. ~ Lee.  
Like a fine wine, British Beat 66 gets even better over time, your concert in Chatham was the best ever!!! Looking forward to next time.~PD  
The dance floor was jammed packed for every dance I thought we might have had to get the "paramedics" in for all the older members you could'nt get them off the dance floor the band brought them back the good old days, the Stones, Beatles the Kinks, Herman's Hermits you name them they done them and much more, the last part of the show says it all it's Brilliant. ~ Alex C 
My hubby and I listened and watch your group, British Beat 66 play at the casino. We absolutely loved your music. We would love to follow you so could you please send your concert list. Thanks a million! ~LF
Hi, my name is C, im 15 and I saw your preformance last night at the Ciociaro club. You guys really rocked! I had lots of fun watching you guys and you've inspired me to become the best musician I can. I wanted to thank you for talking to me and showing my friend and I the stage with all the equipent that you used, it was very informative and cool to see all the guitars/drums/basses/speakers. Thank you and I hope I will see you guys play live again soon! ~ C St-G
Thank You to our friends & fans from British Beat 66!